02 Jun

TANAP-SEIP was Granted Communitas Award in Leadership in Community Service & Corporate Responsibility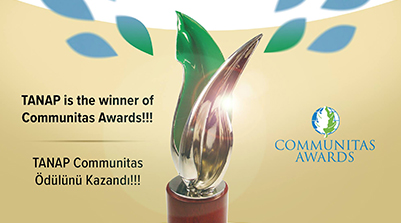 Communitas Awards, a worldwide prestigious award that promotes companies which benefit the community, announced that TANAP SEIP is the winner of the "2019 Communitas Award" for Social Accountability in the category of "Leadership in Community Service and Corporate Social Responsibility".
TANAP, with its Social and Environmental Investment Programme (SEIP) implemented along the natural gas pipeline route, has been awarded with 15 companies this year, 11 in the USA and 4 in the rest of the World.
ANKON Consulting, in consortium with Aqwadem, is implementing the Technical Assistance for TANAP Social and Environmental Investment Programme which develops a coherent ecosystem along TANAP natural gas pipeline and contributes in maintaining the economic and social development and preservation of natural resources.